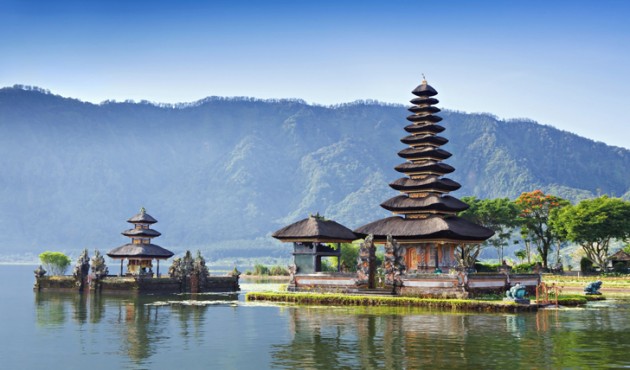 Ubud is one of the tourist area in Bali famous with travel history, art and culture. In 1930
Ubud Bali Indonesia
became known as a tourist spot in Bali. Ubud has many interesting sights, for it follows from Indonesia Travel information about the tourist attractions that must be visited while on vacation in Ubud.
1. Monkey Forest
Monkey Forest or can be known by the Holy Mendala Wenara attraction Wana is a forest inhabited by hundreds of monkeys. These sights into one of the most famous tourist in Ubud Bali Indonesia , even tourists who visit this place reaches 10,000 people per month. Monkey Forest is located at Jalan Monkey Forest, Ubud. These attractions are in a protected forest area. Here you will be treated with the monkeys that roam freely, for it is better you visit the place at 2 pm because at that time the monkeys had enough so do not be too aggressive when looking at the food. Also in these places you will be presented with the beautiful scenery of the protected forest with the cool air and green trees and towering.
2. Ubud Art Market
Ubud Art Market is located in the center of Ubud, in front of the market also include Puri Agung Ubud, the Ubud royal government building formerly used in the past. In this market you can find a variety of souvenirs, accessories, art, and other items. This market became a cultural heritage which retains a rustic atmosphere. The place is also inspired many great artists, one of which is Blanco.
3. Pura Taman Saraswati Ubud
Ubud is famous for its history and culture, so many tourist attractions in this region presenting dance performances, one of which is the Kecak. Kecak is a Balinese traditional dances. Many venues Kecak Fire, one of which is in the Pura Taman Saraswati. Kecak dance performance stages at Pura Taman Saraswati is located in the middle and surrounded by lotus ponds, Kecak Fire Dance performances are held every Thursday at 19:30.
That information about the must-visit tourist attractions while on vacation in Ubud Bali Indonesia. Hopefully this article helpful.